How Tadelakt is processed on tiles, we show in this article
Seamless bathrooms are no longer unusual and are often built in new buildings. But also in old buildings that still have bathrooms with tiles, is often converted to a jointless coating for wet rooms. It is also not as bad as assumed, if you have the possibility to leave the existing tiles.
Apply Tadelakt on tiles and thus avoid annoying building dust
The tiles or flagstones are degreased first. Special cleaner, for example, are suitable for this purpose. Now the surface is painted with adhesive primer to create the necessary connection to the Tadelakt plaster. This is done in a mechanical and chemical way. Mechanically due to the pigmented adhesion primer, because the surface becomes rough and the subsequent coating interlocks. Chemically, because the marble grains can react with the mineral plaster and form a unit. This means that when it sets, calcium carbonate forms with the CO² from the ambient air, whose crystals bond the marble sands together. The primed surface is now coated with lime adhesive plaster, in which a glass silk fabric is embedded and smoothed to a flat surface with a smoothing trowel. When the lime adhesive plaster is dry, the adhesive primer is applied again, because otherwise the joint pattern may show through due to different absorption characteristics. Basically, this was already the most necessary effort for the desired plaster base, on which all mineral plasters, such as Tadelakt, can now be applied. Tadelakt is applied, saponified and polished according to the processing instructions. We have summarized a processing instruction for Tadelakt for you and you can read it here.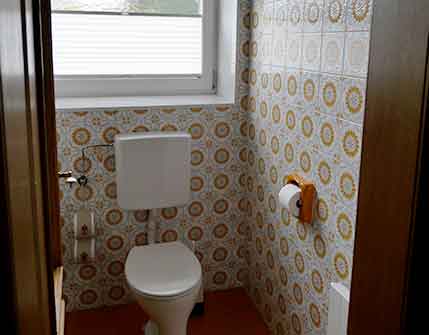 The tiles are degreased with special cleaner and prepared for priming.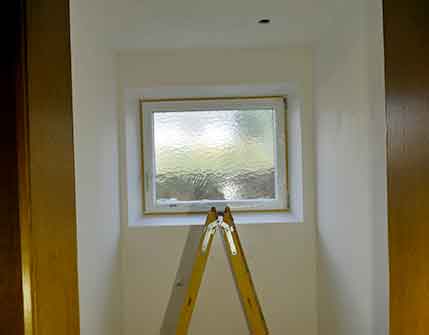 The surface is prepared with lime adhesive plaster and glass fibre fabric and primed again.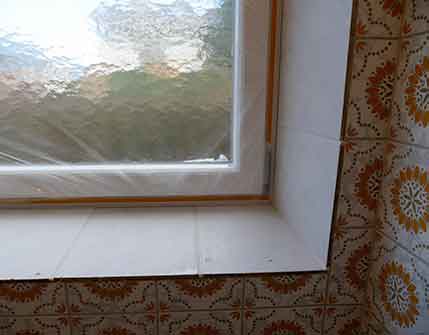 Bonding primer with marble powder is applied with a primer brush.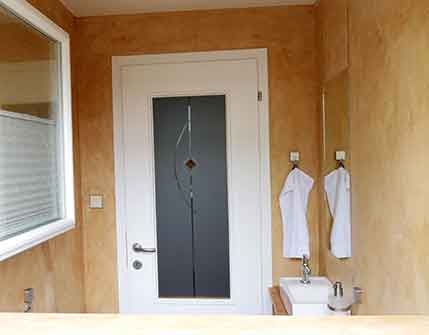 The jointless toilet shines in new splendour and that without building dust.
Recommended products for the preparation of a plaster base on tiles for the application of Tadelakt: